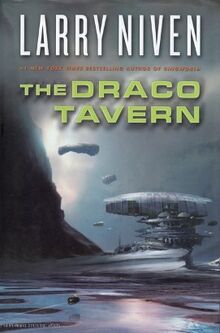 The Draco Tavern is a collection of science fiction short stories by Larry Niven published in 2006. The stories in this collection follow the adventures of the Draco Tavern's bartender, Rick Schumann.[1]
Setting
[
]
"The galaxy is ruled by the benevolent, lobster-like Chirpsithra, who have established a spaceport on Earth. Adjacent to the spaceport, and run by the human Rick Schumann, is a tavern which caters to the various aliens traveling on Chirp ships. This tavern is the setting for the stories, nearly all of which are vignettes."[2]
Publication information
[
]
Several of the Rick Schumann/Draco Tavern short stories which have appeared in other short story collections by Larry Niven were not reprinted in this book, thus it is not a Draco Tavern omnibus; there have been further stories in the series since the publication of the book. The stories included in this anthology are mostly printed in the chronological order in which they were originally published.
The Draco Tavern collects 27 stories and vignettes, however, it is not a complete collection of Rick Schumann/Draco Tavern stories. There are a number of stories that appeared in previous collections which are not present in The Draco Tavern. In addition there have been several more Rick Schumann stories written after The Draco Tavern's publication in 2006.
Stories in This Universe
[
]
The Subject is Closed

Grammar Lesson

Assimilating Our Culture, That's What They're Doing!

The Schumann Computer

The Green Marauder

The Real Thing

War Movie

Limits

Table Manners

One Night at the Draco Tavern

The Heights

The Wisdom of Demons

Smut Talk

Ssoroghod's People

The Missing Mass

The Convergence of the Old Mind

Chrysalis

The Death Addict

Storm Front

The Slow Ones

Cruel and Unusual

The Ones Who Stay Home

Breeding Maze

Playhouse

Lost

Losing Mars

Playground Earth
References
[
]